How to Mix And Match Dining Seating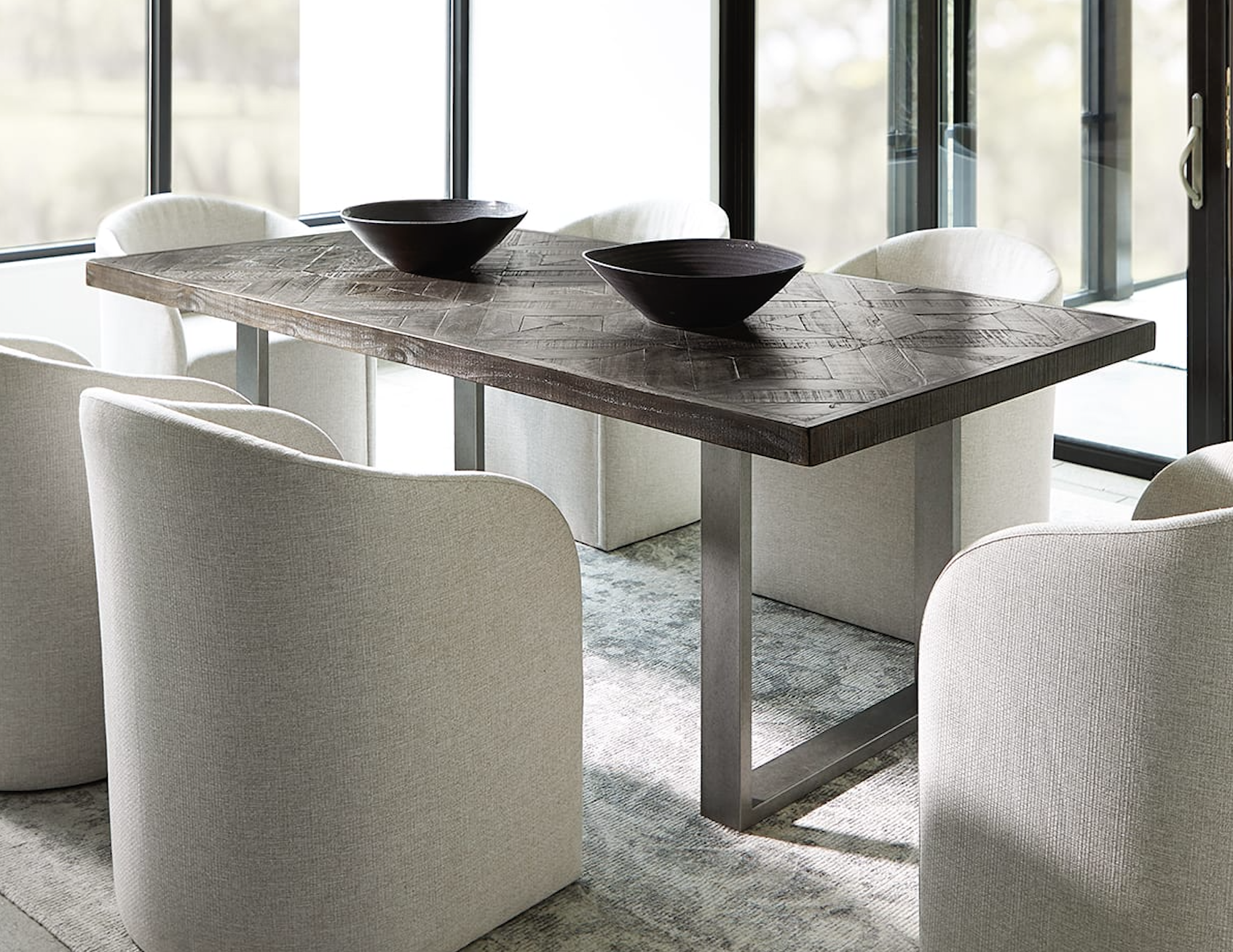 If you're in the midst of redesigning your space, you want to make sure it depicts something you love. Selecting the right chairs and your perfect table may be troubling. What if you prefer a specific style of chairs that doesn't come with a matching table? When you be decide to mix and match your seating? If you find a table, how to you choose the right size chairs to match? Finding your new look can be a lot of work when you don't know where to start. If you're looking for a new style for your dining room, here are a few tips on how to mix and match dining seating for your home.
Tone and Material
The best way to create tonal balance is by mixing the chairs' tones and materials with the dining table's tone. For example, metal chairs may go great with a wooden table for a contemporary rustic look. For a more vintage style, try pairing a wood table with soft, natural linen chairs. Black metal is a great choice with leather. Perhaps a table with metal legs may pair great with some faux leather seating. Choosing to mix and match styles to create a specific tone and style can help keep your eyes moving and create a more exciting environment.
Weight and Shape
The second key element to consider when mixing and matching dining seating is selecting chairs that have contrasting weights. For example, if your end chairs have chunky legs, keep the others simple and thin. Lines are a great way to express this. If you have a thinner dining table, consider chunkier chairs for contrast. If you are looking for unique end chairs, make sure they stick out from the other with their sizes. Perhaps a taller back or thicken legs can help to mix and match without looking too repetitive.
Size of Space
The size of your room is a big part in designing your space. Is your room smaller than usual? Is it in a large open concept? These are important to the overall choices you may make when choosing a table and chairs.
In an open concept, the best way to approach seating is to match the tones and finishes of the stools with those in the kitchen or dining room. You may consider incorporating metal into the counter stools and reserving wood for the dining room, or using wooden stools and selecting iron and fabric seating for your dining room.
For smaller spaces, try to be cautious of how many different materials you are using, making sure they are not too consistent but not completely random. For example, you might use a wood table, black dining chairs, and a wooden bench.
Table and Style
Consider the style you want and the shape of your table. These two things will help inform your decision to mix-and-match, as well as what shape of chair you choose. For design purposes, you may not want to use mixed chairs around a circular table. Round tables usually call for a continuous look. Leave any mixed and matched seating for pairing with rectangular tables.
Don't be afraid to let your end chairs stand out, too. Consider mixing and matching your end chairs for a more sophisticated look. This looks especially great in open concept dining rooms as it helps to fill in extra space.
If you want to keep your living room looking fresh, layer on some tie-on cushions. They're a quick and easy way to change up the look of your furniture without investing in new upholstery. And they're great for playing with trends or experimenting with fabrics and colors.
HOW TO MIX AND MATCH DINING SEATING WITH AUGUSTUS & CAROLINA
Augustus & Carolina can assist you in transforming your home into the perfect cozy space. With tons of unique pieces for any style, we are here to make your vision a reality! Need some inspiration? Check out our indoor furnishing gallery.Come visit our showroom at 822 Front Street, Georgetown, SC 29440.