Bedroom Furniture Must-Haves for A Cozy Space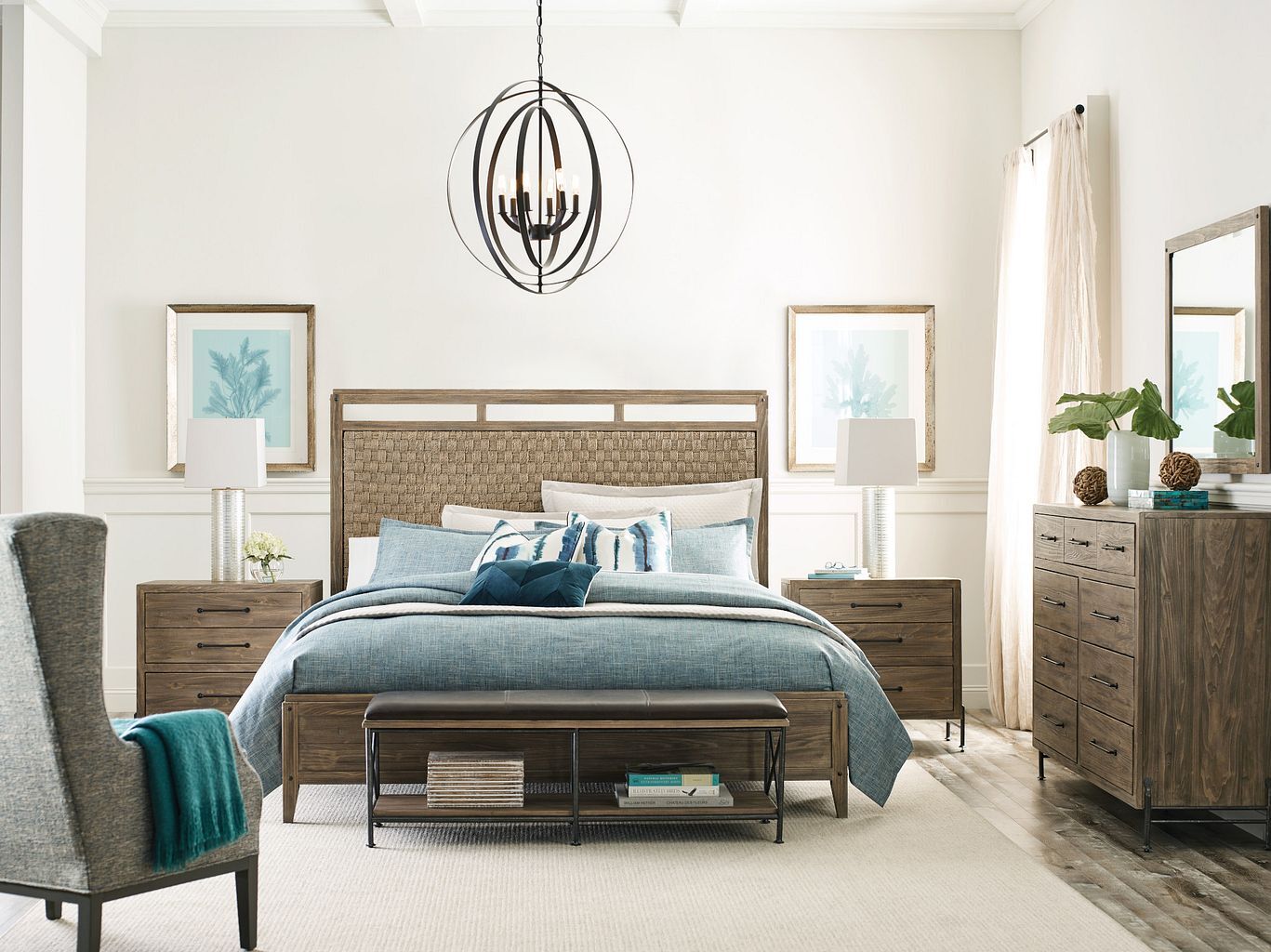 Your bedroom is a haven for you to relax and unwind after a long day. Because of that, you want your bedroom to be a place you can't wait to get back to. The pieces of furniture you choose to fill your bedroom will play a large role in how you feel while you are in the space. From the mattress you sleep on to what you see on your walls, every piece of your bedroom can contribute to making your bedroom a cozy space. So follow along with August & Carolina's bedroom furniture must-haves for a cozy space.
Bed Frame and Mattress
A good bed, with a sturdy and comfortable mattress, will help create the ideal sleep environment. A firm mattress offers support and keeps your spine aligned properly while you sleep. However, the style comes from your bed frame.
No matter what style you're going for, there's a bed frame to suit your needs. Choose the minimalistic vibe of a platform bed or the luxurious feel of a performance fabric frame. Make sure your bed frame fits your king or queen-sized mattress for a good night's rest.
Pillows, Duvets, and Bedsheets
Pillows are one of the things that make a bed feel like home. That's why it's important to choose your pillows with care. High-quality pillows can make all the difference when it comes to achieving a peaceful slumber and overall good night's sleep. They provide the essential softness and support needed for comfortable rest at night. It's important to choose pillows that suit your comfort needs, whether you prefer memory foam or down for extra cushioning, or hypoallergenic materials if allergies cause you discomfort.
Create a cozy atmosphere in your bedroom by investing in high-quality duvets with the appropriate insulation for colder months. Plus, pillowcases, bed sheets, and duvet covers create a comfortable environment to help you get the best night's sleep possible. These pieces are a great way to incorporate your favorite colors and styles into your decor (that can be easily changed when desired!)
Nightstands
Nightstands not only enhance the overall look and feel of your bedroom, but they are also practical for keeping essential items within reach—like your phone, water cups, or glasses. Furthermore, they add a touch of style and symmetry to your bedroom. While they can be useful for placing things in reach, they also allow extra storage right next to your bed!
Nightstands create a safe space for personal items, books, remotes, and anything else you may need while lying in bed. Choose a nightstand (or two) that complements the style of your bedroom. Whether you're accenting in wood, whites, metals, or something else, nightstands add a bit of flair plus accessibility.
Matching Dressers
If you're looking for a way to add some extra storage, a dresser is the ideal choice. With multiple drawers and shelves, this bedroom furniture must-haves can be used for holding clothing, makeup, or other knick-knacks.
Bedroom sets are always a good way to go since they include matching furniture pieces. This means you can find a dresser you like, and get a nightstand to match – or vice versa. Consider the size of the dresser you will need as well as available space in your room. Most dressers have four to six drawers and come both vertically compacted or vanity-style.
Armchairs and Sofas
If you have the space and there is nothing stopping you, you can create a cozy nook in your bedroom where you can take some time off from your busy life. A large armchair or a plush loveseat can be a comfortable place to read, relax, and enjoy some quiet time. You can add an extra cushion or two to make it even more inviting for a cozy nap. Hey, extra pillows are never a bad thing, right?
The More Storage, The Better
Your bedroom should be the one place in your home where you can escape from it all, so make sure it is clutter-free. Avoiding cluttered spaces and using plenty of natural light will help you create a cozy atmosphere.
While dressers and nightstands can add some storage, consider adding shelving to help store other items. Maybe you have something you want to show off, or you're just looking for more ground space. Opting for storage above can help create a cleaner space, automatically making your room cozier to be in. Minimal shelving above your bed, next to your closet, or an open corner of your room can create an organized space plus functionality.
Desk or Vanity
Whether you're using your bedroom as a home office or getting ready for the day ahead, a functional desk or vanity is a must-have. Look for a desk or vanity that provides enough surface space for your work or grooming needs, and offers storage options for your supplies or beauty products.
If you want to create a multi-use room, your dresser can double up as a vanity. However, make sure that it's at a comfortable height that you can sit. Vanities may also require more storage drawers, so make sure you find a desk that has a few basic drawer spaces for things such as makeup, products, or office supplies. Oh, and don't forget a chair to match!
Cozy Rugs
Rugs make a room, which is why you'll want to choose the perfect one to fit the style and décor of your apartment. Large area rugs are great for an open plan living space where there are multiple seating areas or runners in front of your bed can help create a more cozy setting for two. Make sure you find a rug that complements your existing sofa or chairs too!
Plenty of Plants
Plants can help bring a sense of nature and freshness into your bedroom. Plants are also known for their ability to bring about feelings of joy and happiness, so they'll help you feel relaxed, inspired, or energized during the day.
Potted plants are a great addition to any room. They add color, texture, and light reflection. All three of these plants have air-purifying properties, which is great for those who struggle with allergies or asthma. They can be placed on shelves, windowsills, or even in wall spaces.
Wall Art and Unique Decor
Last but not least, what's a bedroom with bare walls? Don't forget to add personal touches to make a room feel like your own space. Display your favorite artwork, photographs, or keepsakes on walls and shelves. Wall art and unique decor are one of the most important bedroom furniture must-haves. This is your space to explore your creativity. Trends such as murals, photo collages, large paintings, tapestries, mirrors, and personal keepsakes can help bring together the style you're going for.
Bedroom Must-Haves at Augustus & Carolina
It's easy for your bedroom to become a cramped and cluttered mess, but with the right furniture and accessories, it can easily become an inviting space where you can relax. Bedroom furniture must-haves like comfortable beds and soft bedding to functional storage solutions and ambient lighting; each piece of bedroom furniture plays an important role in creating a cozy environment where you can find restful slumber.
Augustus & Carolina can assist you in finding the best lighting for every room in your home. With tons of unique options for any aesthetic, we are here to make your vision a reality! Need some inspiration? Check out our indoor furnishing gallery and outdoor gallery. Come visit our showroom at 822 Front Street, Georgetown, SC 29440.