5 Tips for Styling an Outdoor Space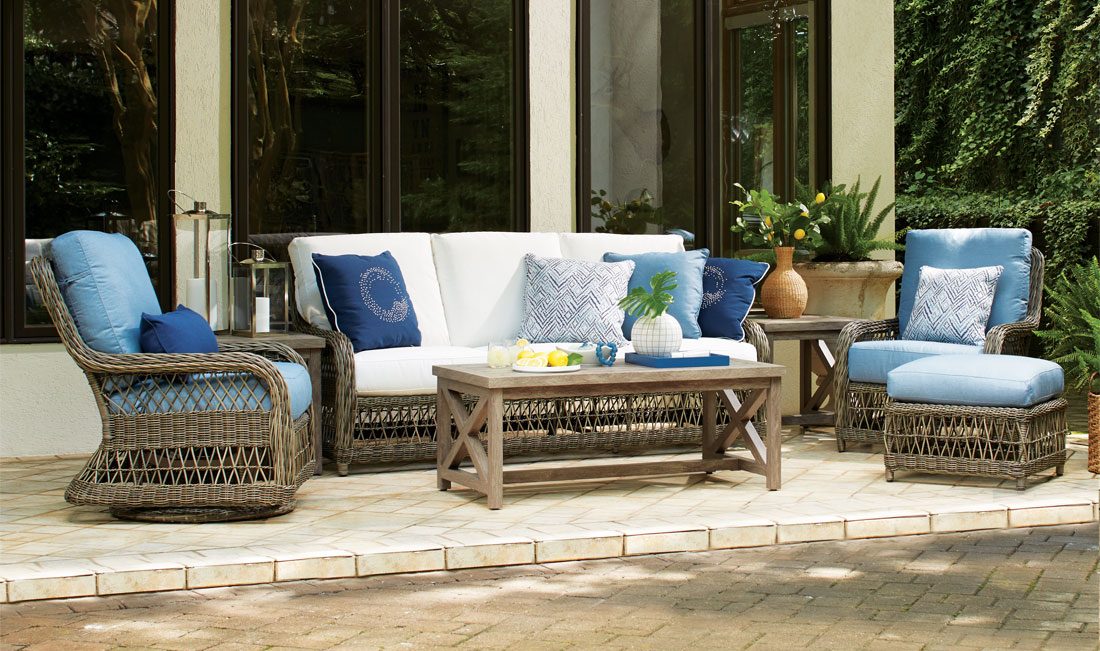 Spring is the perfect time for a gathering. Outdoor spaces are a great opportunity to express your style. Whether you're hosting a casual get-together or an elegant celebration, it's important that all the details come together seamlessly. Even if you are just enjoying your own free time, your outdoor space should be a place you can't wait to come home to. Ready to start preparing for those Spring parties? Here are 5 tips for styling an outdoor space this Spring.
1. Find a statement piece 
Usually with outdoor spaces you tend to purchase the larger pieces first. It can be a great idea to find your main centerpiece and begin decorating around that. A great statement piece can be a large seating area, fire pit, or cabana. Another great idea for party-planners is incorporating tiki bar! You want those pieces to be the main focal point of the area.
2. Accessorize with planters
If you want to bring elegance, charm and aesthetics to your outdoor space be sure to include some designer planters. Whether it's a simple glass or wooden box with a few plants or something a little more extravagant and elaborate, your outdoor living area will instantly be elevated by incorporating planters into the arrangement. Try incorporating your style into not only the type of planters you go for, but also shelving and placement! Ladder shelves are a great option for housing a lot of plants if you have a smaller outdoor space. 
3. Add lighting
Lighting is important for creating a fun atmosphere to your outdoor space! There are different options for you to use, string lights and lanterns can make a huge impact on a smaller space. If you need to use an extension cord, you can wrap the cord in colored tape so it blends in with the grass/greenery. It also becomes super important when having parties later at night. The right lighting can create a great glow throughout your entire outdoor yard.
4. Cozy Spaces and Soft Accents
Outdoor spaces are made to be enjoyed with friends. When accessorizing your space, be sure to keep in mind that cozy is comfortable! Consider adding a few storage areas that can hold extra pillows and towels. Also, if you are opting for major outdoor seating, such as a couch or large outdoor loveseat, fuzzy blankets and a waterproof rug can be a great addition to enjoy your space no matter the temperature. 
5. Small Can Still Be Stylish
Sometimes, it's the little details that really make your space! Spring brings Easter, flowers, and pastels to mind; try using these feelings to begin stylizing your space. Placing flower arrangements atop shelves and tables that match your outdoor foliage can make your space feel brighter and more inviting. Hosting an Easter Sunday party? Display oversized animal figures by the door. These little details will help you create a more welcoming environment.
Small can also refer to the physical size of your space. If you're dealing with a smaller area, try going vertical with your style! Tall planters, mini benches, and a small portable fire pit can go a long way to making your backyard feel just as homey as indoors. Don't forget to utilize any wall space you may have as well! Mirrors, artwork, or sculptures can add a unique style to your area.
Styling an Outdoor Space with Augustus & Carolina
With these 5 tips for styling an outdoor space, Augustus & Carolina can assist you in transforming your backyard into the go-to spot in your home. With tons of unique pieces for any style, we are here to make your vision a reality! Need some inspiration? Check out our outdoor furniture area. Come visit our showroom at 822 Front Street, Georgetown, SC 29440.